Summer is in full swing, so you might have some travel plans on your radar. Check out these apps and tech that will help you stress less, save money, and enjoy your vacation.
Samsung Galaxy Tab S7 FE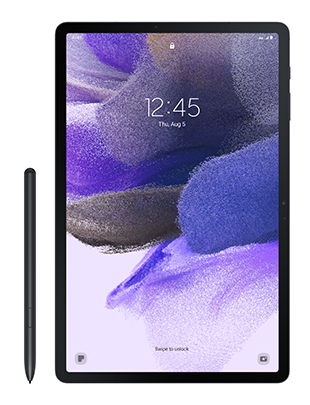 This tablet has a large display to bring content to life in brilliant colors, whether you're indoors or outdoors. Plus, the large screen is great for keeping yourself entertained in the car or on a flight. The responsive S pen is included with the tablet so you can write, draw, click, and tap on the go. With a fast-charging battery, this tablet will last your whole travel day.
myPlan Perks
Verizon recently updated their data plans, so you get exactly what you want and only pay for what you need. Each month, add on perks for only $10. These myPlan perks are the perfect additions for your summer travel:
Apple One
Includes Apple Music, Apple TV+, Apple Arcade, and iCloud+.
You save $6.95/mo
3 TravelPass Days
Includes three 24-hour sessions TravelPass Days each month. Get unlimited talk, text, and data in 210+ countries and destinations. You can accrue up to 36 TravelPass Days with this perk.
You save $20/mo
Disney Bundle
Includes Disney+ Premium with no ads, Hulu, and ESPN+. Download your shows or movies ahead of time so you can watch them when you don't have access to WiFi.
You save $4.99/mo
The Best Trip Planning Apps
These apps will make the planning process super simple and help you discover great things to do while you're away.
Hopper
Hopper has helped over 70 million travelers find and secure the best prices on flights, hotels, homes, and car rentals. This app predicts the prices for flights and hotels with 95% accuracy up to a year in advance. When you're planning a trip, you can "watch" it in the app and Hopper will send you a notification when it's the right time to buy so you can save the most money. Plus, it can freeze prices, so you never miss a deal. Available on iOS and Android for free.
HotelTonight
Get incredible hotel deals with HotelTonight. This app has the hookup on last-minute bookings at the hotels where you want to stay. They partner with top-rated luxury hotels, tried and true favorites, and unique boutiques so you'll easily be able to find something suited to your needs. Book tonight or up to 100 days in advance. Available on iOS and Android for free.
TripAdvisor
A tried and trusted app to help you find hotels, restaurants, tours, attractions, and other experiences around the world that are recommended by travelers like you. TripAdvisor can also help you snag great deals on hotels from more than 200 booking sites in the app. Stay organized and use their planning tool to create your itinerary. Available for free on iOS and Android.
Google Translate
Traveling internationally? Google Translate allows you to translate between 100+ languages, even offline with no internet connection. Translate by typing or use the microphone to translate conversations on the fly. Point your camera at an image to instantly translate the text or import a photo from your camera roll. If you have a Google Pixel, this is a built-in feature already on your device! Available for free on iOS and Android.
Redux
Did your tech or wireless earbuds take a dip while you were traveling? We have a solution! Redux can safely dry and revive wet phones, tablets, or earbuds. Make sure you don't plug in your tech after it gets wet. Find Redux at a local store near you.
Where will you be traveling this summer? Tell us in the comments!